5th of July
We said goodbye to Florence, promising we would come back to visit her. She hugged us warmly and said she would be waiting for us. Then, she fainted for a second time. Robert caught her and laid her in a safe position. When she came round, she convinced us to go out to have dinner with her. We submitted to her proposal since it was almost noon and the French breakfast had proven a bit insufficient. After dinner, she couldn't play any more tricks on us. We said goodbye once again and left Reims amidst the sheets of rain. It didn't stop raining all the way to Paris.
It was still raining when we took the subway to Montmartre. It was cold, the rain was heavy and the wind was vile, trying to snap our umbrellas in half. Still, Robert, who had read a great many books about Paris and watched almost all romantic movies set in the City of Light, managed to convince us that France's capital city actually looked the most beautiful when it rained.
At Montmartre, we stopped in a small café known as Le Tire Bouchon. The evening was nigh and we had planned quite a long walk so we ordered three espressos to charge our batteries a bit.
The walls in the café were covered by thousands of post-it notes with short sentences. Julia asked the waiter about their origin.
"Every visitor can leave something behind as keepsakes," the French woman answered. "Do you want to write something?"
We nodded, and she brought a blank sticky note. I was already reaching for my pen when Julia snatched it from the table, asking the waiter for a bigger sheet of paper.
"You're thinking about writing a casual "thank you, it was nice", aren't you?" she said to us, and we made faces. "Are you serious? Charles, you're a writer so help us write a short poem or a story," she suggested, instantly becoming enthusiastic over the idea.
"In French?" I asked foolishly.
"Of course!"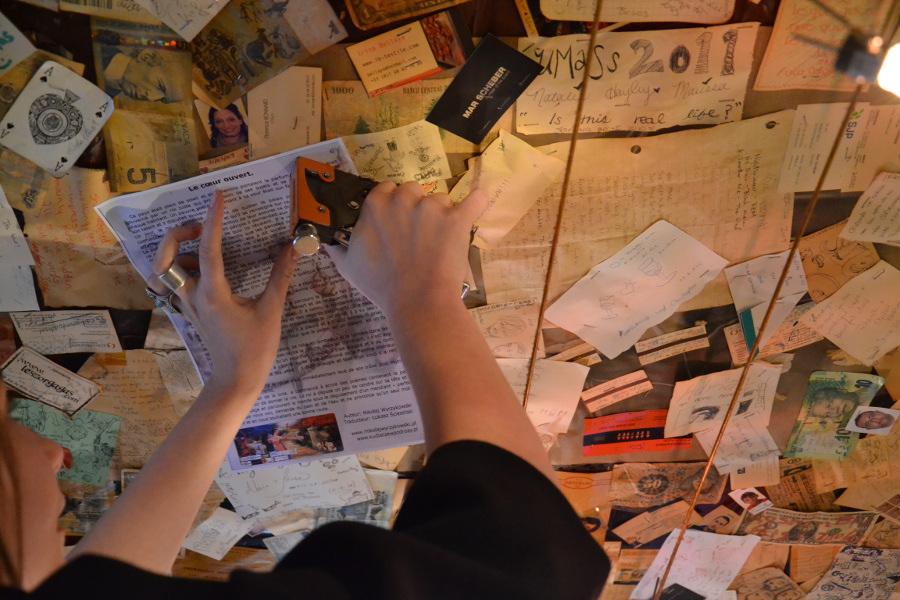 About a quarter later, the piece of paper with our story embellished the ceiling in Le Tire Bouchon. We were proudly gazing at it with our satisfaction being fueled every time a customer entering the café stopped for a while to crane his neck in order to read the newest note.
"You know what? I like Paris. I love it," Robert spoke unexpectedly, finishing his espresso. He usually didn't talk much and limited the words he said to the essentials only. "There's something in it… I don't know how to express it… what do you think about it?"
"Well, I don't like it," I answered. "Too loud. Too many people."
"I hate Paris," Julia declared. Robert and I looked at her in surprise.
Somehow, I didn't believe her on that matter.
When the lamps illuminated the streets, the noise subsided and the tranquility started to replace the unbearable racket of multilingual conversations carried on by tourists from across the world. The only people remaining in the streets included families, loners walking in the evening, lovers, and musicians – a boy strumming on his guitar who was sitting at a door sill, a girl singing blues backed by an accordion, a violinist standing in front of the Sacre-Coeur's wall, and all the others who played in cafés, entertaining the tourists along with the lights and the scents spreading from the plates delivered by waiters. We could finally walk freely around Place de Tertre. A painter offered himself to paint Julia's picture, even free of charge for the sheer pleasure of having the opportunity to immortalize her beauty, but she answered him in Polish as if she hadn't understood his words. His eyes brightened for a while so I thought he would expose himself as a Pole but a moment later, he saddened and sat back on the stone wall.
"He will paint me, anyway. You'll see," said Julia with confidence. She reflected for a few seconds and then she said: "I love Paris, you know? I just love it!"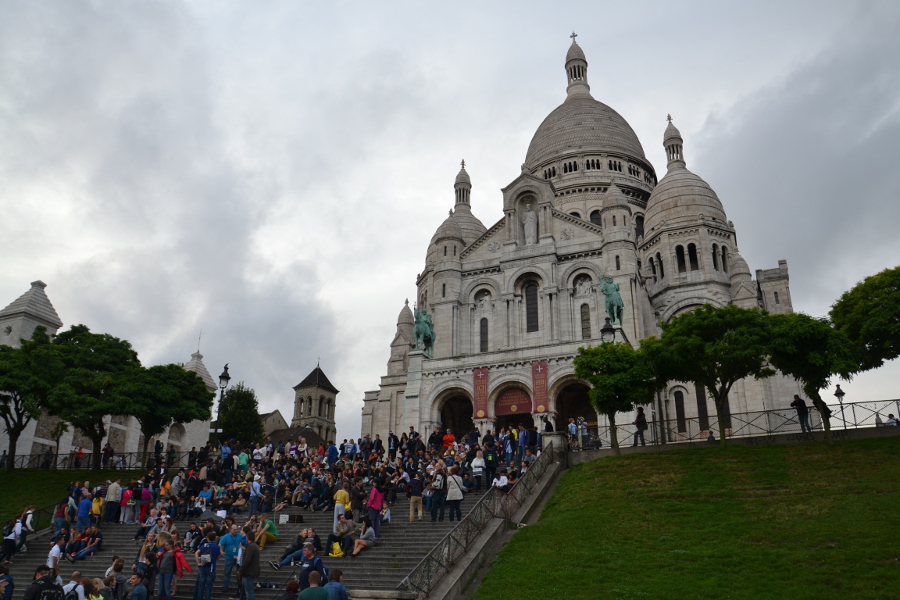 The stairs leading to Sacre-Coeur were full of people. They were talking, hooting with laughter, and listening to a street musician performing "Let Her Go" by Passenger. Some couples cuddled together, pointing their fingers at iridescent soap bubbles flying high in the air.
An old Citroen 2CV swooshed through the street at the feet of the stairs. Those cars could be rented to drive a bit around the city. We sat down on the stairs to have a rest, listen to some music, and admire the gorgeous sunset that gently laid the orange rays of light on the roofs of Paris.
The Indians with boxes under their arms roamed between the people, trying to sell them bottles of beer. One of them wanted to give Robert a rose instead, but he explained he was allergic, emphasizing that it would definitely be very nice in any other case.
Julia sighed and hugged both of us.
"Now, I'm happy," she confessed, directing her eyes at the sky on the other side of Paris where thousands of people must have been witnessing the same sunset, at the moment. "It's special. That we're here and not anywhere else… you know what? Thank you."
"For what?" asked Robert.
"That you simply are."
We sat there until the sun came down completely. The musician was still singing, people were talking and laughing while we were just sitting on those stairs in silence, listening to our heartbeats. Despite being aware that everything passes and goes away forever, we were enjoying our miniature of eternity confined in the flying minutes, trying not to interrupt it with any unwanted motions.
Everything that took place after that evening was a beautiful yet ephemeral dream. I wasn't fully aware of the moves I made. I said aloud that I felt like in a movie. Julia and Robert laughed at me, answering that we had probably seen "Midnight in Paris" one too many times.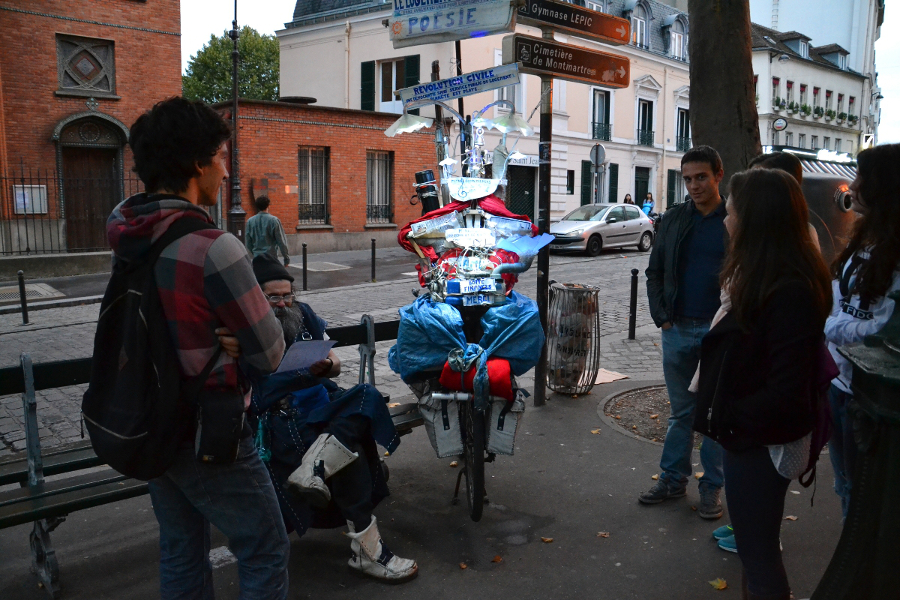 We found ourselves in Place des Abesses. On a bench not far from the Wall of Love, there was a long-bearded man with an old leather hat and funny-looking glasses. He was reciting a poem, loudly and expressively like an actor on the stage. People stopped to look at him, some with smiles on their faces, others with concentration, creating a closed circle around the man. We came in closer. My vision automatically focused on a bicycle standing next to the bench, which was undoubtedly the poet's property. I gazed at it in amazement, admiring its sophistication. There were bags and lights attached to the bicycle which was additionally furnished with a closed system of pipes enabling the circulation of water which splashed inexplicably from the tiny fountains located here and there. The magical vehicle, which could have been used by one of Marvel's superheroes as well, was also equipped with a mast on which there were plates with inscriptions ending with exclamation marks. They resembled banners that would encourage people to join the protesters at the barricades but unfortunately I wasn't able to decipher them.
After the performance, the poet met with applause and informed his publicity about the similar artistic evenings he organized each Friday behind the Notre Dame cathedral. Additionally, he encouraged the people to pick a text for him to recite from the bags attached to his bicycle, which could be easily mistaken for a time machine. I imagined him traveling on that bicycle around Paris – a poet who recites his poems in the streets like modern Prince Hamlet, jotting his crazy ideas down on sheets of paper which would then be snatched by the wind and lost in oblivion…
Julia nudged me with an elbow and gave me a meaningful look. I knew what she was up to. I took out a sheet of paper and a pen and we began to reproduce the story we had written down in Le Tire Bouchon. Then, we gave it to the poet. He looked at us respectfully, breathed in to fill his lungs with air, and started to recite loudly, so loudly that everyone in the vicinity of Place des Abesses could hear him. A shiver went down my spine when a crowd started to gather around the poet once again.
We left in a shower of applause. It was already very late. Robert glanced at his watch and told us it was almost midnight. I felt like I had been drinking heavily and it made me surrender myself to a thought that I could be passing Van Gogh or F. Scott Fitzgerald without being able to recognize them in the darkness from among other people roving around the streets of Montmartre at night.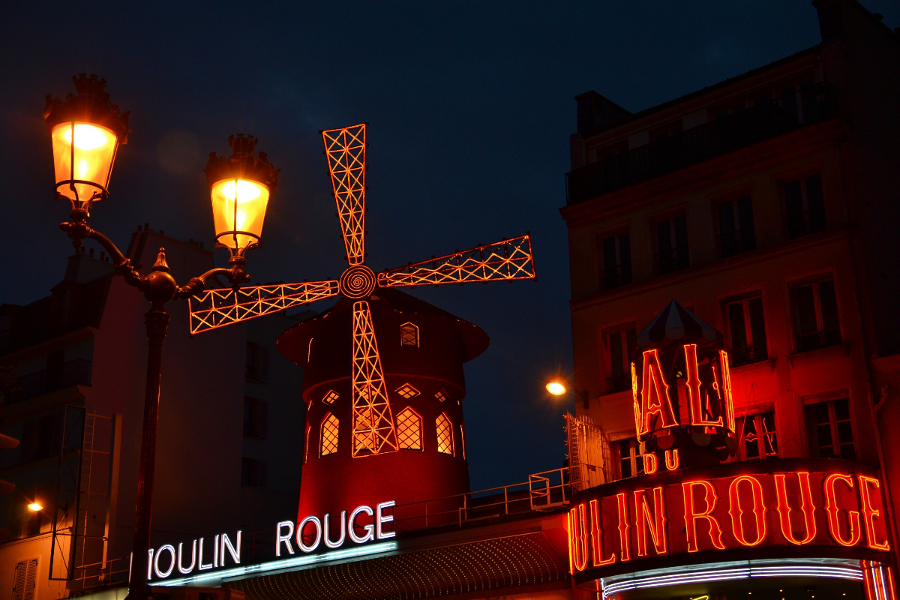 The street was leading us downhill. Our faces were dimly lit by the streetlamps, our steps sounded awkwardly strange and hollow. There was a black sky above us. Music spilt from the numerous cafés – the oases of light where people talked ecstatically and danced laughing, while the midnight bird was fluttering its wings above the roofs of tenement houses.
We found ourselves on the main street. We could see the red windmill of Moulin Rouge spinning in the distance when we took the stairs to the subway station, leaving the pale glow of Pigalle's neon signs behind. I was already half-asleep when we were passing other people in the underground corridors resounding with jazz music. It was a relief to sit down in the train.
I wanted to let my eyes close but I heard people talking about me in English. It was an older married couple from the States. The woman was sitting placid, playing with her grey curly hair, while the man was rocking in his seat, goggling his enormous eyes at me. His hand was a bit shaky. I scanned the surroundings to find Julia and Robert but they had sat down at the other end of the car.
"Tell him the story, John," the woman tried to persuade her husband. "He seems to be a good boy."
"I don't even know him," he answered. "He doesn't look like somebody who likes stories." He went silent for a while and then addressed me directly. "Do you like stories, my boy? I'd like to tell you one. The one I experienced personally."
The ceiling lights flickered. The train was shooting through the darkness of underground tunnels while I made myself all ears. I closed my eyes only to open them in a land of the beginning, in a place where all the stories originated, including the one I was about to be told – the one that can be told only once and remains unrepeatable, the one that contains a mystery of existence, the one that becomes forgotten on the day of its birth.
Mikołaj Wyrzykowski
(Nico Cigale)
To be continued