6th of July
The next day, we woke up just before noon, ate in a hurry, and jumped on the subway. To be quite frank, it was too much for me to write down the story I had been told the other evening. It deserved better. In the end, some stories live longer, leaving the body of words and being passed on every day like handshakes. At that moment, I couldn't bring myself to become a conductor between the story and a sheet of paper.
It was raining again but this time it was only a drizzle which made walking even a bigger pleasure. We reached Pont des Arts without opening the umbrella. Robert, who liked to read about history, told us that it was the oldest steel bridge in Paris, that Napoleon commissioned its construction, and that in the 19th century it resembled a garden hung over the Seine due to the greenhouses with a variety of flowers built on the bridge. I was enchanted by the padlocks that embellished the lovers' bridge like a valuable jewelry.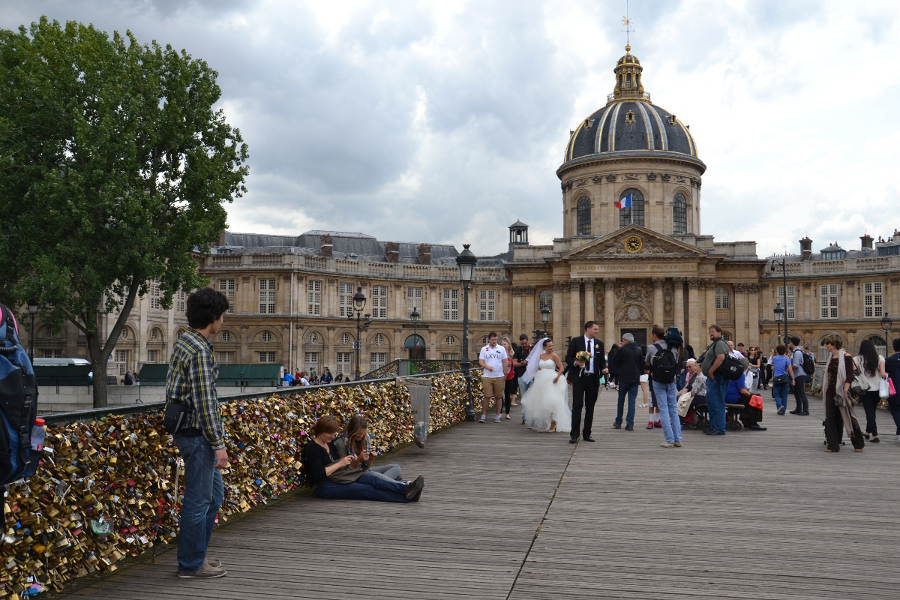 Some of those padlocks had been put on other padlocks – love interconnected, intertwined, and despite the initial unfamiliarity, ultimately became one, taking the form of a bridge. People passed by, looking at them as if they were works of art exhibited in an art gallery. Then, they went further, took the subway, and kept looking at the faces of other passengers or at their own reflection in the window, trying to find something real in their lives, still traveling in pursue of happiness.
As a result of a miraculous chain of coincidences, a couple to be married on that day just entered Pont des Arts. They came closer to the balustrade to put their "love-lock" on it. In that very same instant, people gathered around them with their cameras and camcorders to observe the young lovers immortalizing their love. When they secured the padlock with their names inscribed on it, the man turned the key, pulled it out, and whispered a couple of words to his future wife. She looked at him with her eyes sparkling with an eternal gold of love, and then threw the key into the air, making it fall for several unusually long seconds only to become snatched by the Seine… They kissed receiving a round of applause.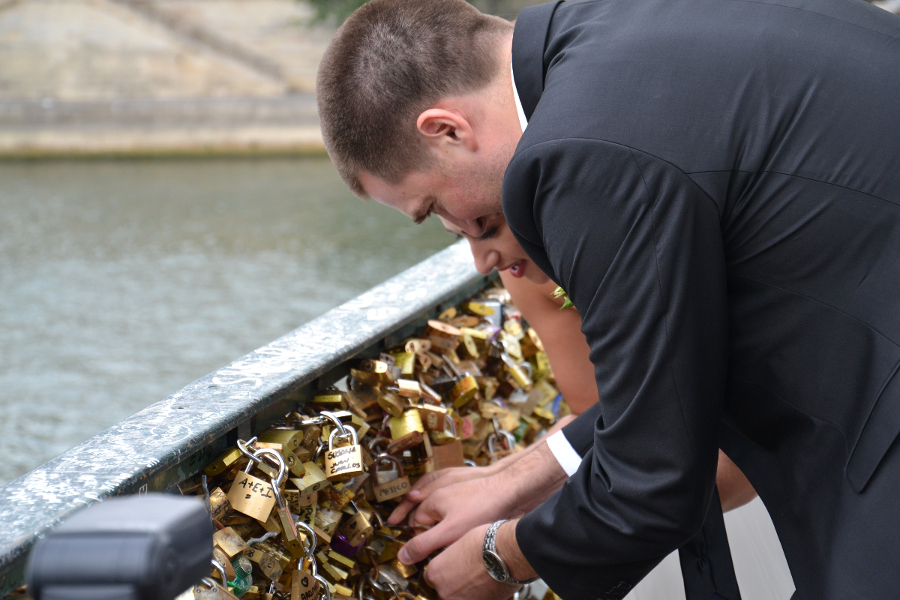 "When do we cast off for happiness", those words by Charles Baudelaire, which I had seen on a postcard somewhere, resounded in my head. The couple went on and came off the bridge to disappear in one of the streets leading from the Seine into the city. We kept staring at the river's current and observed the water being cut by the bow of an approaching bateau mouche. I don't know what I thought about at that moment. I guess I wanted not to think about anything particular and let the world flow freely through my head like a river.
"You know what, I'd like to leave my padlock here as well," said Julia, leaning out dangerously to take a unique picture of herself and the bridge.
So it happened. The moment she posted her latest photo, her smartphone slipped out of her hand and a few long seconds later it got snatched by the river, following the key which had just been thrown into the Seine by the young couple. Julia froze. She stared blindly at the river, being unable to believe what just happened and not having the faintest idea what to do about it. Whereas Robert simply couldn't restrain his laughter.
"Shut up! It's not funny!" Julia shouted at him, simultaneously looking at me since I was in rather good spirits as well. She was furious. "What would I do now? What do you think?"
"Don't think about it. Just… leave it be," I spoke gently. "We're traveling."
In an attempt to mollify her, Robert invited Julia to dinner. She didn't answer but I noticed a change taking place in both of them in that very instant. It slightly relieved them from addictions that had been exercising control over them. Robert, who was so composed and cool, cheered up while Julia fortunately could forget about her phone and the pictures she took all the time. I inwardly thanked God for my friends.
It was already after midday. We were walking along the left bank of the Seine, looking at the bouquinistes' stands, LPs and old posters with John Lennon. Then, we headed towards boulevard de Montparnasse. Cars were passing by, humming loudly, and the crowds flowed across the street. I persuaded Julia and Robert to step into La Rotonde.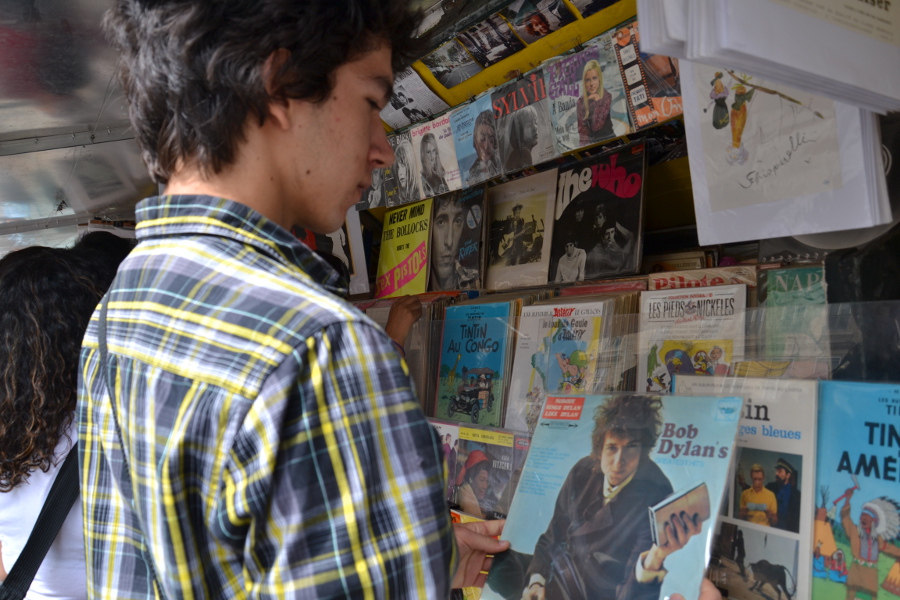 "Just imagine that Picasso, Apollinaire, and Matisse used to hang out around here, having discussions and spending entire nights in those cafés – in Le Select or La Rotonde – while Hemingway wrote "The Sun Also Rises" on the terrace of Closerie des Lilas," I said ecstatically. "And we're going to be there in a moment. Can you imagine it?"
Inside La Rotonde, waiters were shuttling between the tables where people talked about serious matters, smiling gently before taking another bite from time to time. They ate slowly which is typical for the French – they mastered the art of savoring food, which we hadn't done yet. Their figures were reflected in a ceiling covered with small mirrors. The interior was delicately illuminated by the lamps, which created a warm and cozy atmosphere. On the other side of the window, we could see the city coming under attack from the rain, which kept intensifying once again.
We decided to have oysters.
"It's my treat," said Robert. I wanted to knock it out of his hand by reminding him about the fact he had just lost his job and technically he had been left with no income but he only waved his hand at me. "It doesn't matter, Charles. Maybe you can tell me what difference it makes?"
Julia placed an order in French and asked the waiter for a decanter of water. Her spirits were rising.
"You know what? I could live here," she stated. "I really like Paris. I would hang out around all those cafés, go to movies every evening, worked a bit… Oh, Robert, what's it like to work?"
"Not that great. You do the same thing all the time. Day after day, month after month," his words didn't surprise me at all since I knew the position he had held.
"That's terrible. I don't want to go to work. Routine kills me. I can't imagine sitting in one place and doing the exact same thing every day… I find it hard to think… about the future, if that's what it's called." I wanted to tell her something but I realized she wouldn't listen to me, anyway. "I want to travel! I want to see the world, meet new people, and enjoy life!" She was making spontaneous gestures with her hands, and I was afraid she would knock the glasses off the table.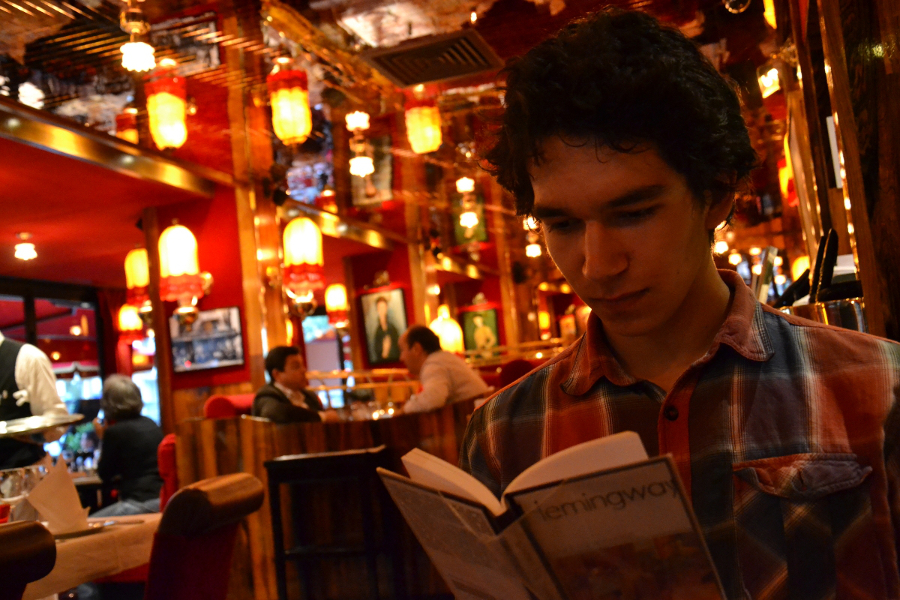 Robert touched the right-hand side of his chest.
"You give me faith, Julia," he said but I sensed he just wanted to play and banter with her. "It brings faith straight to my heart."
Julia looked at him roused from torpor of her thoughts.
"Oh, silly Robert! Reverse anatomy, isn't it?" She clutched her head. "Heart is on the other side!"
"My heart is everywhere. On the right, on the left, here and there…" Robert explained himself.
The oysters arrived on our table. They resembled gems on an iceberg. While I was eating, I started to switch off, observing people at other tables and wondering what their story was or what story they would like to hear. I was looking for inspiration. My attention became riveted by a family who was being served by a waiter who just brought them a plate of snails. I thought about the routine Julia had mentioned earlier, about fighting or accepting it, about our tendency to change and about hate which frequently turns into love – I tried to picture what those people could be saying at that moment, what game they could be playing. Without uttering a word, I memorized that scene and my feelings accompanying it in order to make a story out of them.
Mikołaj Wyrzykowski
(Nico Cigale)
To be continued
You can buy this book on Amazon.com: http://www.amazon.com/gp/product/B00W63AV26?*Version*=1&*entries*=0