20th of July
Life at the vineyard went by slowly and pleasantly. We got up early in the morning and worked until noon – then we knocked off because Baptiste said it was too hot to continue working. Robert came out as a gifted cook and prepared excellent dinners; actually, it was one particular meal that we had quite frequently, for breakfast and supper as well, namely spaghetti carbonara. We got fresh drinking water from a well located in the garden of Baptiste's grandfather, who spent most of the days sitting on a chair, keeping track of what was going on around him, or walking around the vineyard. One day, we asked him why the tops of olive trees were so evenly trimmed.
"Tourists want to have a look at the sea, don't they?" he answered, laughing.
We spend the afternoons riding bicycles around and naturally visiting the beach to cool our bodies down in those sweltering August days. Water was warm and it was a real pleasure to go for a swim. After some time, our skin started to turn brown, and we became certain that nobody would recognize us when we got back home.
For the time being, the vineyard was our home, and we kept successively discovering aspects of everyday life at that place, and we did alike in terms of discovering ourselves. I enjoyed observing the ripening grapes very much, especially while sitting in the shade cast by an olive tree and reading a book. We took turns reading Eric Emmanuel Schmitt's novels so that we could discuss them before going to bed.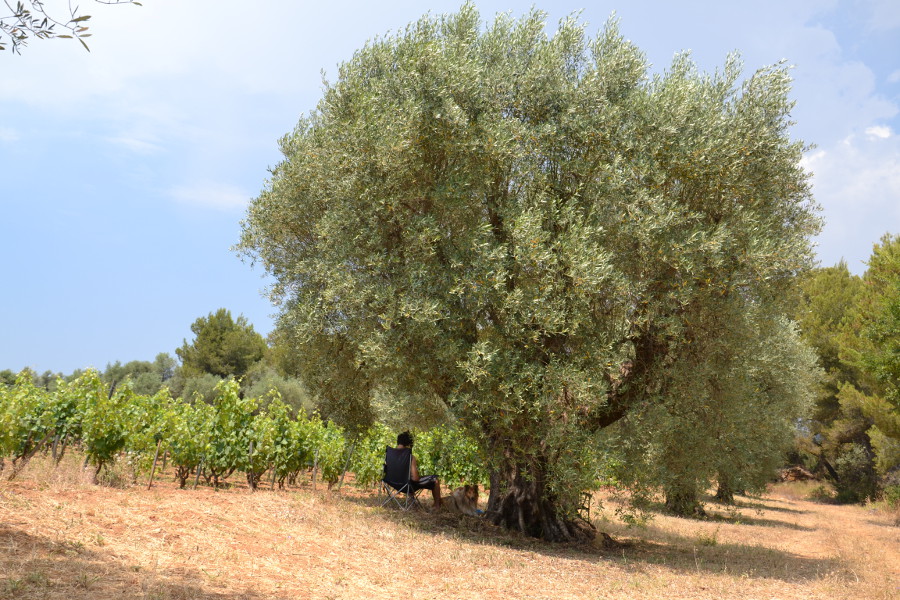 "Have you read his latest book?" Julia approached me one day, showing me a novel the title of which I don't remember anymore. "It's about France. Some stories, I think."
I shook my head for a negative answer and remained silent for a longer while. Then, Julia asked with concern:
"Is everything alright?"
"Yes. Only that… sometimes I think about home," I answered. Most of it was part of the truth so we could assume it was generally true.
"Same as me… look, how about sending a postcard to Poland? It's a good idea, isn't it?
"It is," I was again delighted with Julia and Robert being so close to me.
When we didn't have much to do, we practiced singing and composed a bunch of stupid songs. Each of them will always bring back the memories of Provence. As will the fruit tart Robert stubbornly baked on everyday basis, thus anchoring it in our memory forever.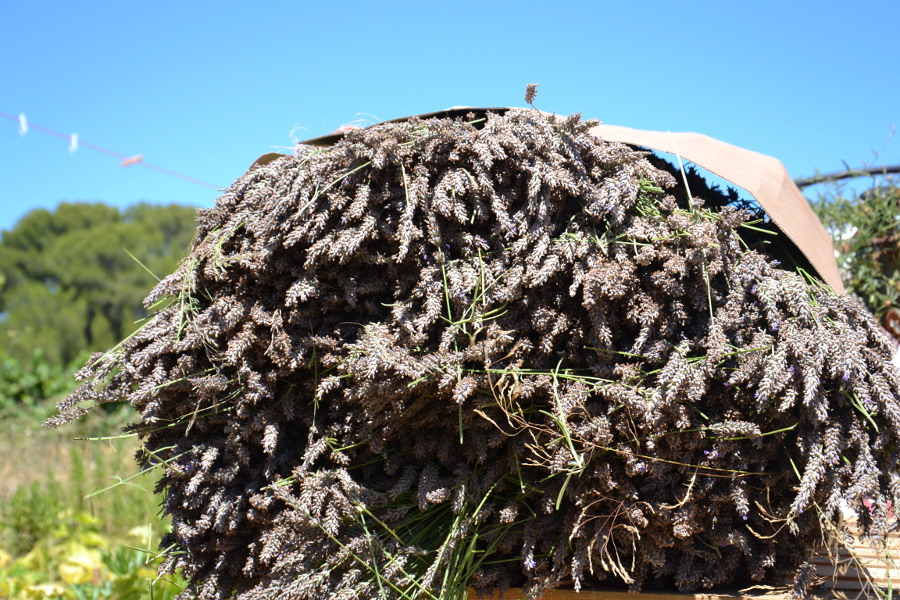 One day, Baptiste pruned lavender in his garden, and Julia received "a mission from God" that consisted in arranging bouquets of the cut-down lavender. She was able to spend entire afternoons doing so. And once she heard that lavender can be used to bake cookies and make ice cream, she went completely nuts about that herb. Our house was saturated with its gorgeous and refreshing scent from early mornings until late evenings. Robert also became enthusiastic about it the moment he heard about the lavender liquor.
On weekends, we would visit nearby towns. We saw Bandol and La Ciotat but we found Ceyreste, a small town located in the mountainous region, the most beautiful of all. There were no impressive fountains, no historic buildings, no spectacular views; the only things to be found in the town were the cinnamon-colored sun crawling on the roofs, the murmur of a brook contrasting with the stony silence of narrow streets, and the cats leaning out from behind flower patches. Ceyreste was a haven of calm, and I couldn't stop wondering how come its residents had so much spare time to spend on sitting in cafés, strolling around, chatting with old friends. We were always in a hurry, rushing headlong with no apparent reason, and we needed some time to slow down.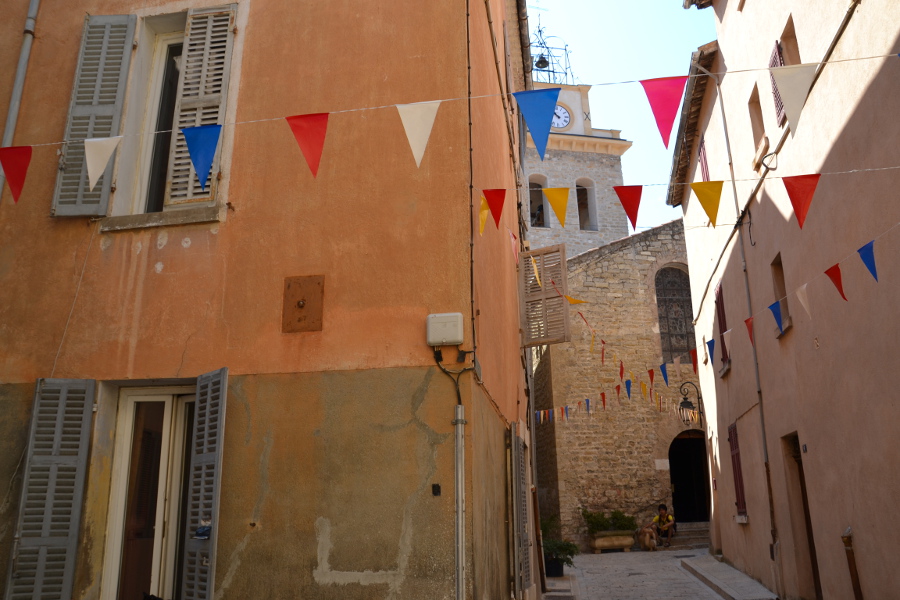 On the same day we visited Ceyreste, Robert, who had always been romantic, hit upon an idea to have dinner on the rocky edge of a precipice, with a view on the sun setting over the sea. He had a particular place in mind – Route des Cretes, that is "the road across the crests" running from La Ciotat to Cassis.
We set out and headed for La Ciotat around seven in the evening. The signs took us to a road, which kept climbing and simultaneously narrowing. We could only dream about the roadside or any guardrails that would provide at least an illusion of safety, soothing the pounding heart. Occasionally, we passed a cyclist or a runner.
"Look," said Robert, referring to the young man who had just run past us. "He lives in Cassis but he's meeting a girl in La Ciotat. He's running to her now."
The green heaths with protruding white teeth of rocks were subsiding on the left. The road meandered among the hills with every turn unveiling more of the bay in Cassis, and we felt like birds, being able to admire the sail boats that appeared so small from such height, the emerald color of water, and the monumental cliffs with sharp edges that seemed to reach the clouds. People stopped in lay-bys to take photographs while swarms of insects buzzed over their heads, glistening in the setting sun.
"God is a wonder maker," I said. Julia and Robert were so amazed at the view that they let the silence complete my words.
We parked the car on Cap Canaille, the highest point of the road. Robert took the bag with food, and we went to the edge of the precipice where we sat down in order to take delight in the dinner.
We opened a bottle of rosé wine and raised a toast to our trip. I propped myself against a rock and bit off a morsel of a baguette, also tasting the goat cheese we had gotten from Baptiste's grandfather, and sausages on sticks we had purchased on the Sunday market. A couple of meters from the spot where my feet touched the ground, there was a sudden and steep slope running directly to the bright beach. When I leant slightly forward, I saw the white combers breaking over the coastal rocks.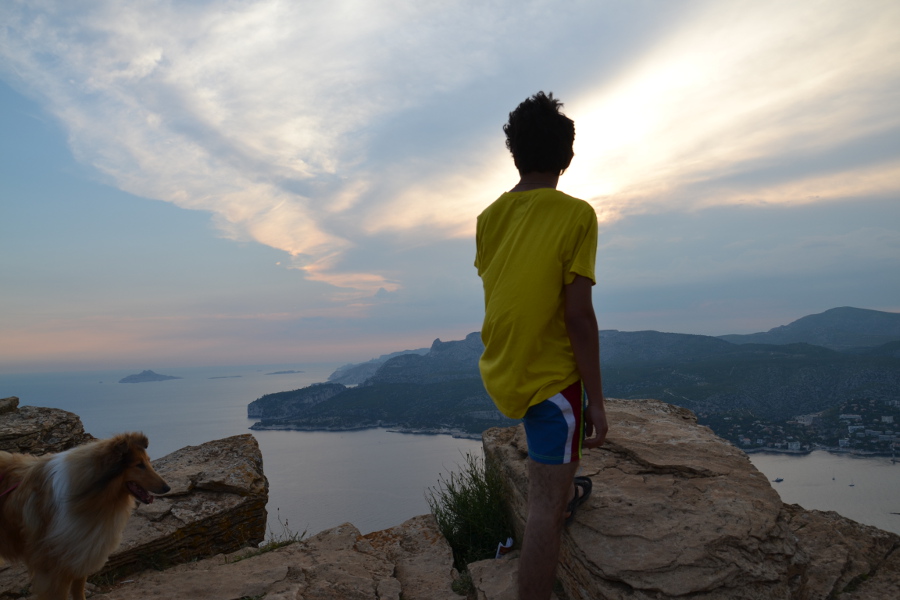 Sparks of the setting sun were dancing on the water. A lonely motorboat was plowing the emerald vastness of the sea. The sky was dark but the edges of the dome were brighter, reaching pure white on the horizon. Distant massifs blended with the clouds covered in the sky blue mist, which resembled ancient palaces floating high in the air. Their contours were being painted with the sun's gold. Colors of the sky were changing, one shade developing into another one –orange rays spilt over the crests and within seconds, it changed into the rose that reminded me feathers of the flamingoes in the Camargue, only to transform into the ocher of houses in Roussillon. Eventually, the sun went down, there was only the lighthouse in the port of Cassis, from which the sounds of an electric guitar were coming.
Finishing our dinner, we noticed that all people were rushing somewhere with their cameras equipped. When they stopped, we heard a scream – not a second later, a man with a parachute jumped from the cliff, followed by his fellow who waited several minutes before jumping. Devoid of her smartphone, Julia once again shaped an imaginary camera with her fingers as if she wanted to immortalize the view in that manner.
Sleep was calling us from the distance so we returned to the car and drove back to the vineyard. I inserted the Head and the Heart CD into the car's player; it was a perfect match for the darkness that was pouring inside through the rolled-down windows and the road that was winding above the swarming lights of La Ciotat. Julia asked me to play "Another Story" again, and then once again, so that we all memorized the lyrics and started to sing aloud, driving past the palm trees that adorned the road leading to St Cyr.
When we arrived at the vineyard, Robert was still in an exceptionally good mood. It was already late but he suggested going for a walk down the Olive Lane.
"We'll go together. Nothing bad will happen to us," he reassured us.
I liked to read there in the afternoons but it was the last place I would visit after dark. Robert told us about weird-looking lights and the grunting of wild animals coming from the bushes; whereas Julia would swear she had sighted a UFO out there. When I was walking around the vineyard one night, I got to the Olive Lane but the moment I heard the sounds resembling the clattering of chains and the sourceless music spreading among the trees, and I noticed sheets hung out on a line, I dashed back into the house, explaining myself inwardly with the dying-out flashlight.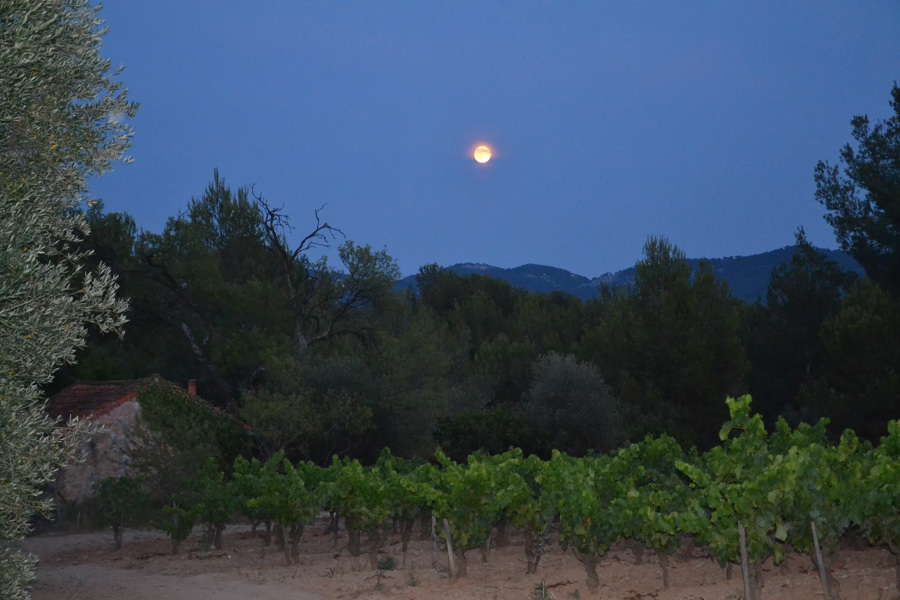 We ventured out in that direction and immediately became absorbed by a thick darkness, in which the pale moon brushing the leaves on olive trees was the only source of light. We stuck together, with Julia in the middle, and when we heard the chains rattling, she took hold of our hands. Suddenly, we turned around in one swift movement but we felt foolish since it turned out it was nothing more than a sheet fluttering in the wind. We could hear odd murmurs coming out from the bushes from time to time; Robert told us he noticed a shapeless silhouette crossing the path but neither Julia nor I wanted to believe him.
Several minutes later, we sat down under an olive tree to demonstrate our sense of security. Robert grinned happily, showing his white teeth. I relaxed. I closed my eyes and felt as if I was sliding into an abyss, falling down into the pleasant chasm of a bottomless well. I would have fallen further if it hadn't been for a piercing shriek let out by Julia that brought me back to the surface.
"Aaa!" she screamed and jumped to her feet. I opened my eyes and jumped to my feet as well but I found it hard to stand upright due to the jelly-like legs. I noticed a sign of panic in Robert's eyes.
In front of us, there was a man in a hat with a sawn-off shotgun pointed at Julia. She could hardly breathe. The man shone into our eyes with a flashlight; I wanted to run away but then he lowered the gun.
"C'est moi, c'est moi!" he said reassuringly and in the light of the flashlight, I noticed Baptiste's laughing face.
Later, he explained to us that he would walk around the vineyard every night, hunting for rabbits.
NIco Cigale
(Mikołaj Wyrzykowski)
To be continued
You can purchase the entire novel here: http://www.amazon.com/gp/product/B00W63AV26?*Version*=1&*entries*=0