Jana and her collie Grace, who is 2.5 years visited a total of 12 countries, walked many miles on their feets and paws. Last year they were climbing the mountains in Norway. Jany Brossmannova  has a unique website, where she is writing about hiking with dogs around Slovakia. It's been a long time since I started watching her hikings with passion. Read.
Jana, how did Your passion for travelling, visiting and wandering begin?
Since my childhood I have been fond of nature and walking in countryside. A hundreds of miles during my first years were "done"  through my Father´s feet from the child seat on my Father´s back.  There was not one weekend, during which we would not go hiking somewhere in the countryside. Open air is a place where I can relax and forget about day-to-day problems. Since our childhood our parents have been teaching us to love and respect nature, and thanks to regular exercise myself and my brother were also excellent students, we rarely had missed our lessons at school thanks to our great immunity systems . Our weekend trips in countryside were alternated with long weekends at our grandparents in the country, where I learnt to love animals.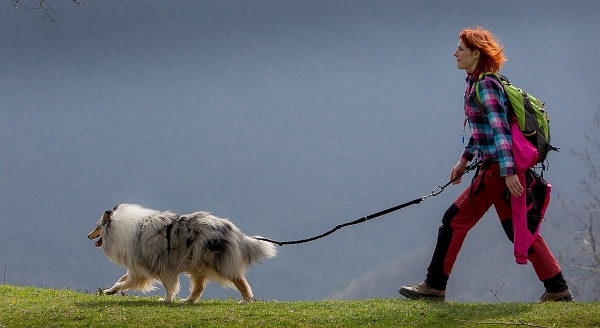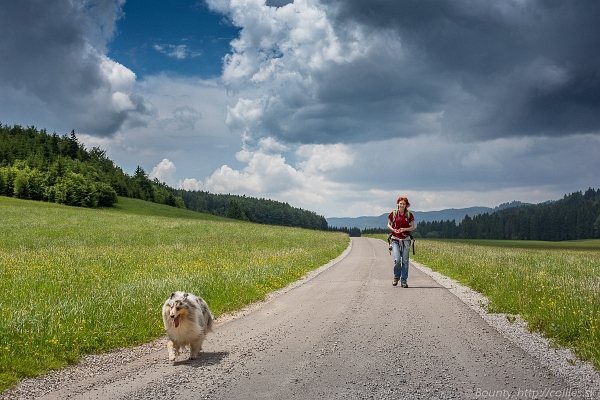 Why do you like wandering with Grace? How is she beahaving durings hikings? How do you know, if she likes it?
Its the same as if you ask a Mother how she knows if  her child is happy Grace always knows that she is going out for a trip and she can´t wait. During the trip she is always happy and really enjoys it. Than I feel the same as she does, and that is the most beautiful about hiking with the dog.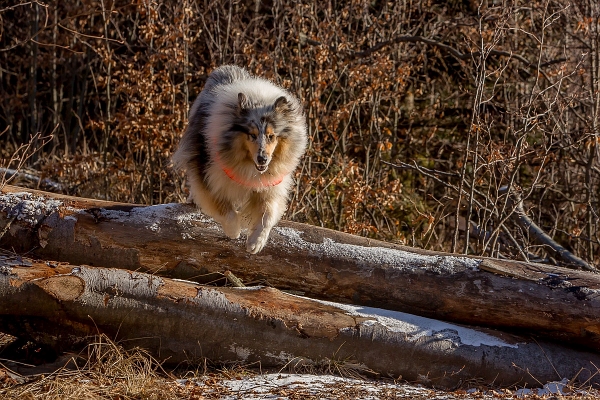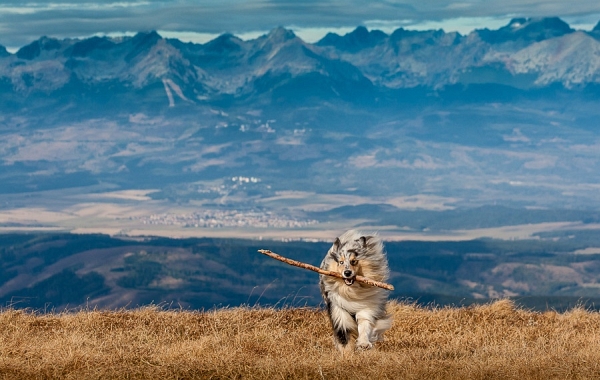 Many people don't know, if their dog will have enough strenght to walk long trails. How many miles it is possible to walk with dogs? How long are your trails with Grace?
This is really individual. Generally a not trained dog is a lot more efficient than not trained person and it can manage a lot more. However, I always keep saying that during hiking the distances should be selected with regards to the shape, age and health of the dog and the dog handler – walking tours should make us  and the dog happy. Any terrain, difference in altitude but also the weather play an important role. All of this has got significant impact on duration of the hiking trip. Our trips are around 20-25 km long on average. This is an optimal distance, we are able to enjoy the countryside from various views and places, and there is no need to hurry. Of course we are able to double or triple the distance if necessary.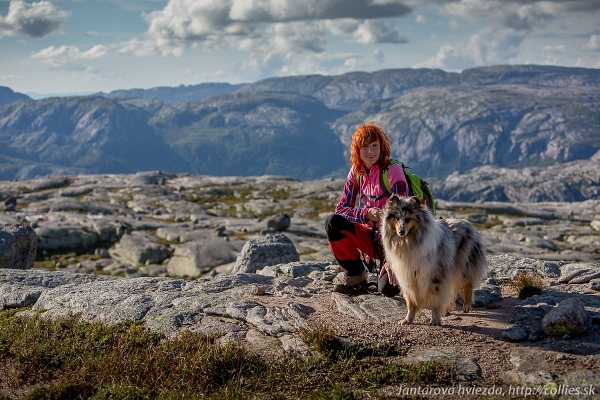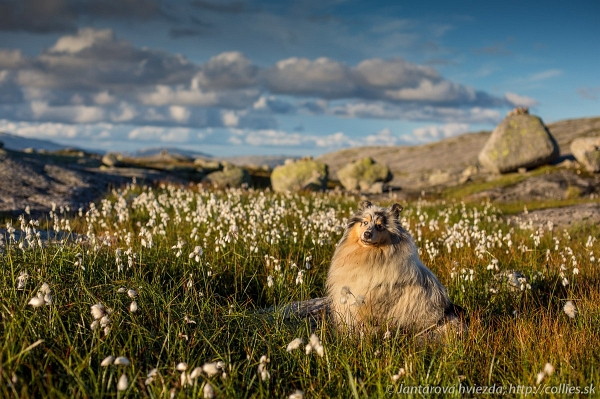 How did you start preparing to hiking with Grace? You have her since she was a little puppy. How long were your first trails?
Regarding this issue Its absolutely clear to me that for  correct development of skeleton of the puppy or young animal an adequate exercise is extremely important. Young animals in development are extremely sensitive to lack of activity but as well as too much exercise, both can cause serious damage during growth. I stick to the rule – never overload a puppy younger than 10 months (period of massive growth) ! We do a lot of regular short  walks on meadows, and forest on soft surface and  combine these with some doggie games.  I try to avoid concrete and asphalt surface.  When we plan a weekend trip  for a dog at this age the distance should not exceed 3-6 kilometers by slow walking pace. I try to socialise the dog and get it used to various places, surfaces, stairs, tunnels, bridges etc. so that it is not anxious and insecure as an adult dog. After the massive growth is over (after 10 months of age) I increase the walking distance step by step. After 12 months of the age (even later at some breeds) an X-ray of hips  is recommended. If everything is ok, the dog is ready for subsequent increase of load without any restrictions. Apart from hiking I try to keep the adult dog fit by daily walks a few kilometers long, jogging or aporting.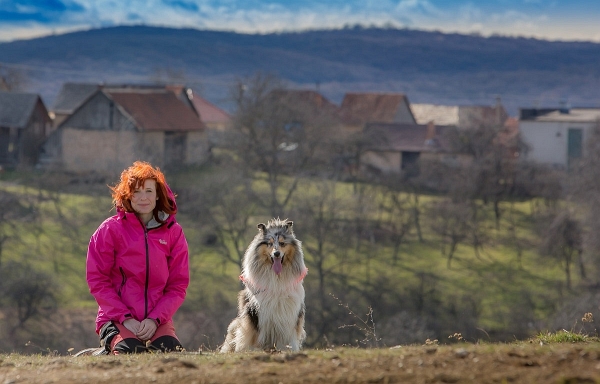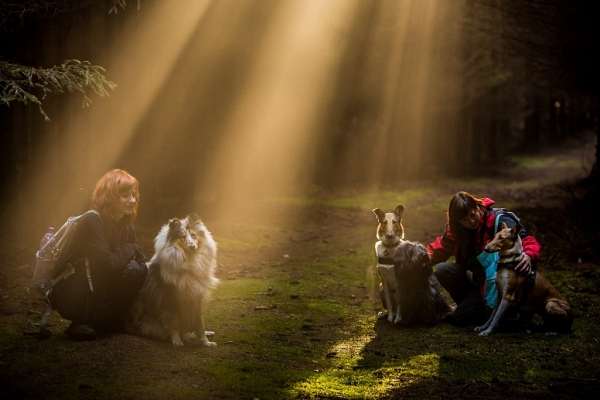 How can you longer the distance? Do you see, when she can walk further or not? When she didn't have enough force, did you carry her?
If the dog handler is careful, everything is a very smooth process and it does not happen that the dog would not keep up with the pace or would get exhausted. In any case the owner should pay attention to his or her dog, if it is not tired. An attentive owner will notice. Generally the  symptoms are that a puppy tends to sit down more often, whines or slows down. Really temperament dogs do not even slow down or you can rarely see any fatique symptoms, therefore the owner should correct the dog´s activity. A lot of young dogs do not realize that their energy source is over and they can be absolutely "washed out". We cannot allow this. I personally do not mind to carry the puppy in arms for a while, if I think it is too tired. However I try not to reach such stage. Sometimes less is more.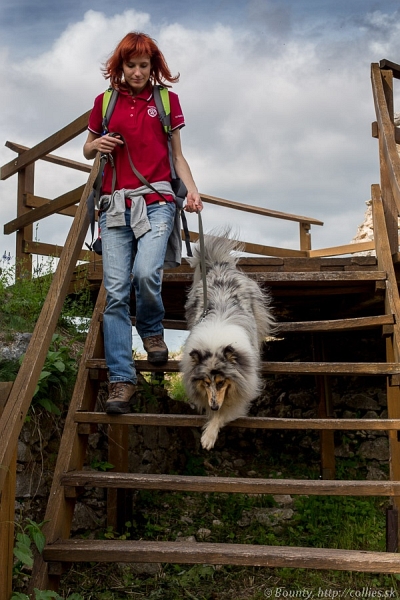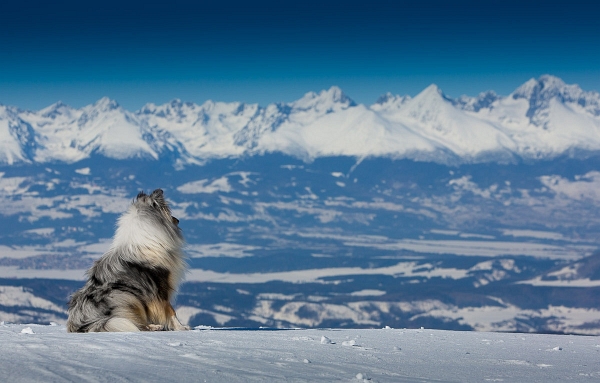 Is it worth to come to Slovakia for hiking with a dog? Which are the trails, where you can enter with a dog? Are there some places, where it is forbidden to walk with dogs?
Slovakia and its countryside is suitable for hiking with a dog. There are not many restrictions here. The dog can acompany you almost everywhere, if the terrain allows that. I have not come across any restrictions yet. In some National parks there are prohibition signs at the entrance, but the Slovak Legislation does not mention this fact, therefore the dog can have access anywhere, nevertherless at some places it must be on the leash. In reality this is seldom checked  But you have to make sure that the dog does not run away too far from you, because there is a risk of meeting a hunter. Even if the law says that a hunter cannot shoot a dog with visible collar, there have been cases that he did… Therefore you have to   always keep an eye on a dog that is not on the leash  and if you are unable to do this, its better to attach it on the leash and be considerate of other people.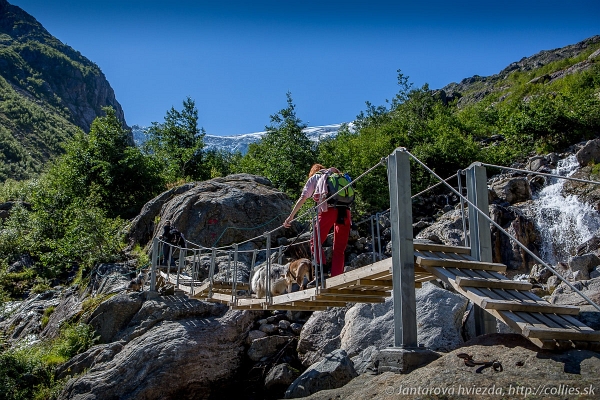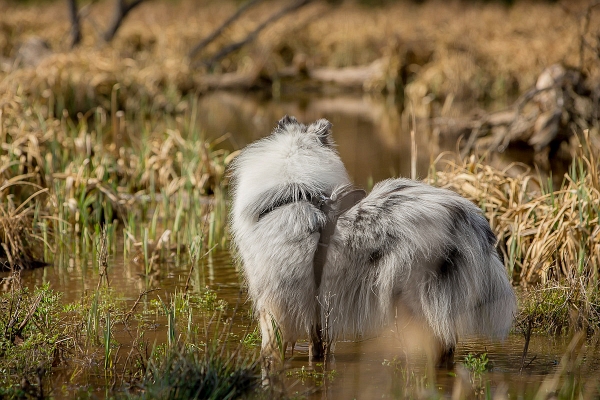 Often, when I talk about climbing in mountains, I think of your trails. Can you write, where is it worth to go in Slovakia? Can you write something about your experiences in hiking?
Slovakia is a colourful country. Full of beautiful forests, meadows, plateaus, hills or mountains. Everyone can find its favourite spots. I can say that each village or town  is surrounded by beautiful countryside and they have wonderful hiking opportunities. In every forest you can find a lot of nice paths that are worth exploring. We have a lot of world´s unique rarities.
Slovak mountains are magnificent. Whether we talk about mountain chains or our biggest pride the High and Low Tatras – our highest mountains. We have a very rich network of hiking paths and hundreds and hundreds of marked or not marked trails. Its up to you to choose. I do not know if somewhere in Central Europe there is a country with better and more hiking opportunities than  Slovakia. We have walked through many mountains, each mountain has got its specific features.. however my "personal triumphs " are the peaks of the High Tatras (altitude above 2000 m). Myself and Grace have conquerred 5 of them by now .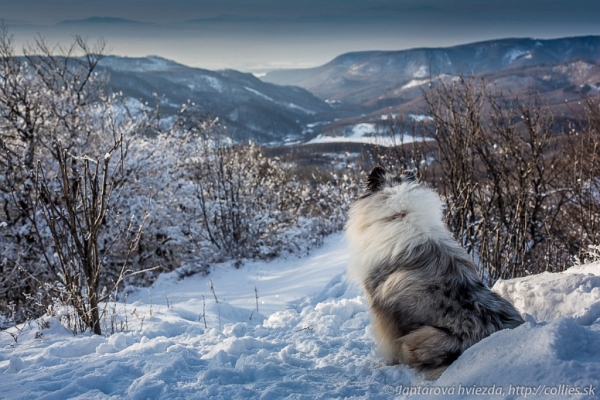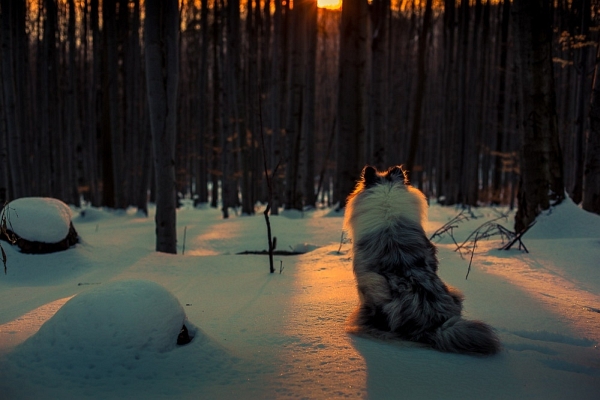 Is it possible in Slovakia to ride lifts with a dog? What do you need to have? Do you use ski lifts with Grace?
There is a "saying what is not profibited, is allowed" . I have not seen any prohibition signs that a dog cannot be transported on a cable car. And sometimes, if you ask politely, they allow you and your dog to places where usually the dog is not allowed . Everything can be negotiated. I do not tend to use cable cars, but I have some experience with them.  It can make your hiking day  more interesting. I would not worry at all to travel with a dog on a cable car. Its an advanture for dogs too. We have used a chair lift too, but this can be done only with an absolutely obedient dog, of which we know the reactions, we trust the dog and the dog trusts us. Otherwise a risk of injury is too big!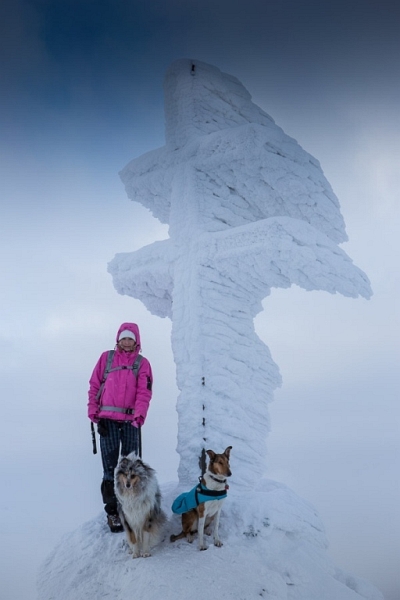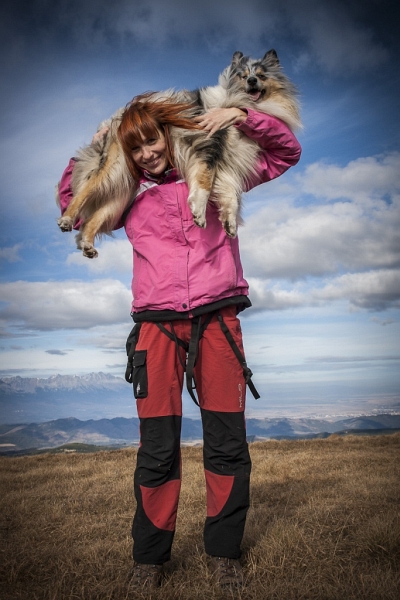 What routes do you recommend for beginners in Slovakia (dogs and people) and what for experienced walkers?
For beginners I can recommend shorter trails with moderate elevation through meadows and forests.  The terrain of such trails is maintained in good condition and it offers a lot of natural and cultural sights of interests. For experienced hikers I can recommend a tour along our mountain ridges and hikes in  alpine or subalpine zone (if the surface is suitable for dogs), or exploring areas with sporadic visitors only.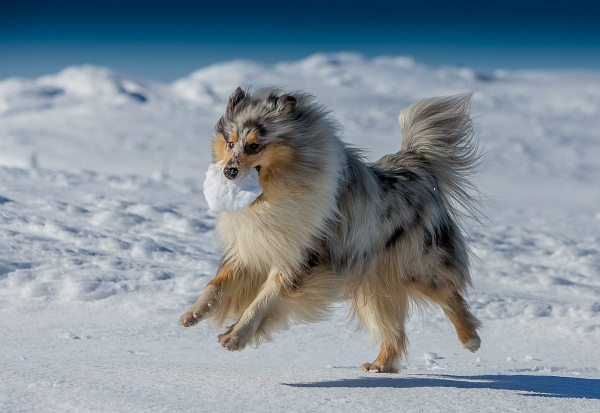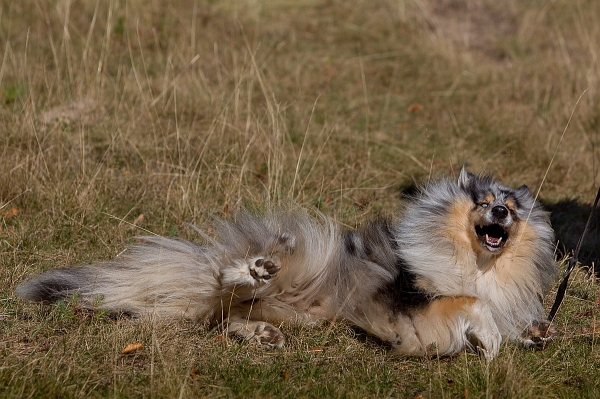 How old is Grace and in how many countries have you been with her? Or maybe you know how many miles on the trails Grace made with you?
Our Grace is now 2,5 years old and has visited 12 European countries. Each country has some interesting and exceptional places. I keep a "hiking diary" to which I put down all the places we have been to with Grace, I have not counted yet how many kilometers we have together in our feet and paws, but it must be hundreds and hundreds. I have pointed out the most charming places   in my unique project – hiking tips with a dog, which you can find on our web site (LINK). It is a unique and the only database in Slovakia where I gather all out hiking tips from my country.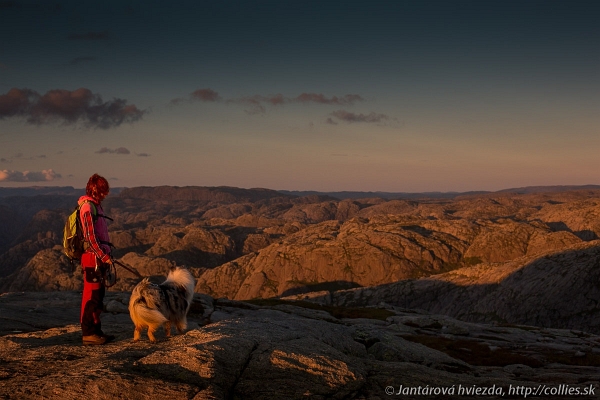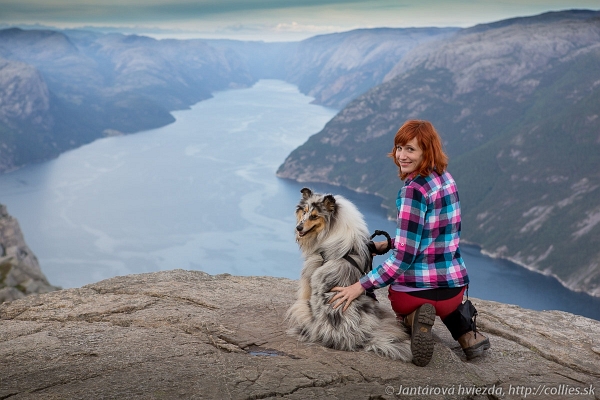 Last year you've been with Grace in Norway, what did you see there? You were driving there by car? Where did you climb? Were there any prohibitions to roam with a dog in Norway?
Last summer we spent our 3 weeks holiday in Norway. We travelled 5500 km by car from Slovakia across Poland, Germany, Denmark up to Norway. We slept in various camps. The journey itsself was a fantastic experience. We travelled with a caravan and therefore we could stop and have a rest at any time and anywhere. In Norway there are almost no restrictions. Everything is allowed at your own risk. On favourite tourists spots there were signs warning you politely  that dogs should be attached to leash. People are disciplined there and we were too and with regards to some exposed terrain it is highly recommended. We met a lot of dog friendly people, hiking with a dog is very popular overthere. The same as here.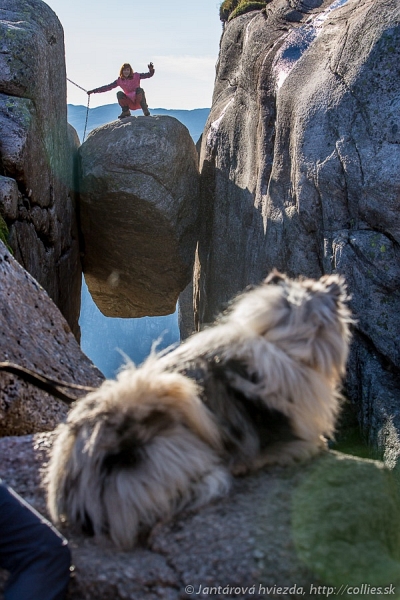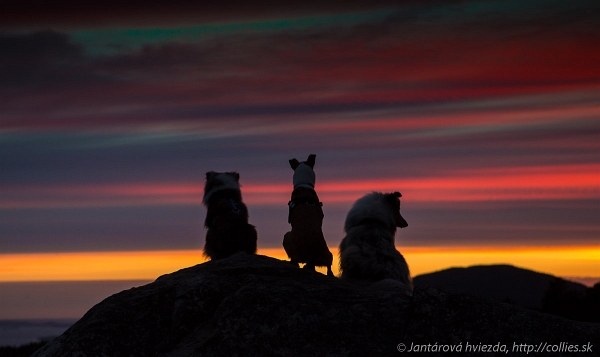 How to logistically prepare for the expedition with Grace? How do you like to travel–car? foot?
My favourite means of transport is  the car.  I like travelling by train too, but you are not so independent in terms of timing here. Grace loves travelling by car, the car boot is her second home . If the journey takes too long, we make a break every 2-3 hours and walk out the dogs in fresh air. It is important that the dog feels well in the car when travelling. Of course the car is just a means of transport, it gets us nearer to our destination. I am not the typical tourist, I am a hiker and I love walking.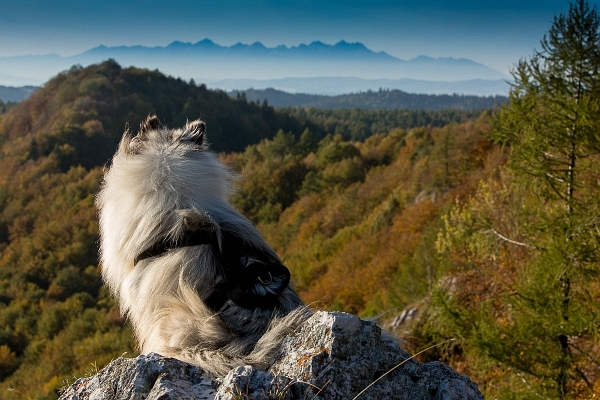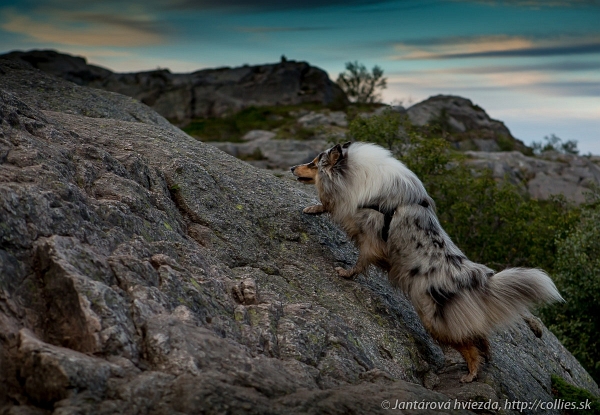 Do you have a funny story of a trip / journey, which always puts a smile?
Who knows Grace, knows that she is very funny girl, and you can´t get bored with her. I will not cheat if I say that we have plenty of fun during our trips. She is a naughty pack, who always comes up with some joke. She is fearless and curious and finds some adrenaline sports  like rock-jumping, deer chasing or trespassing foreign property really funny. I remember when Grace together with my friend´ s collie started sliding on down the hill covered with snow. They did it on purpose. Grace improved this  by  a new technique – sliding on the her back with legs up . That was hilarious. Then you realize that normal moments with your dog are the most precious ones.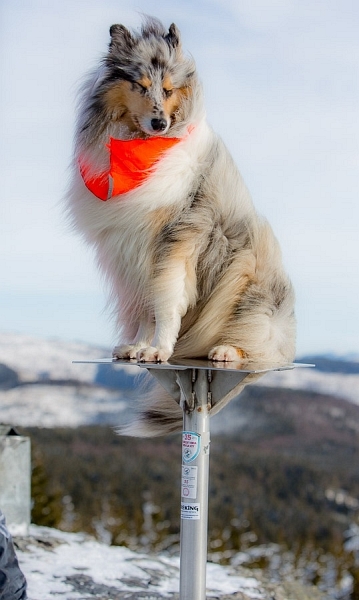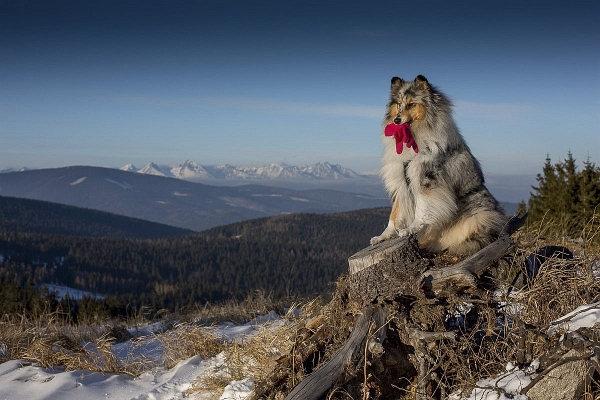 Do you have a favorite place, the most beautiful? Such like an own paradise, which do you think I'm in heaven, here is my place?
There is a lot of beautiful places I have been to. I was enchanted with the scenery of Holland, its tidy villages, fairy-tale pastures and splendid meadows nearby lakes. Norway was extremely attractive to me too, there is no doubt about it. I do not want to sound it as a cliche but my roots are here, in Slovakia. Here I feel home, I have my favourite places, where I can lay down in grass and watch the sky or horizon. Grace sits next to me and I know at that time I am the happiest person in the world.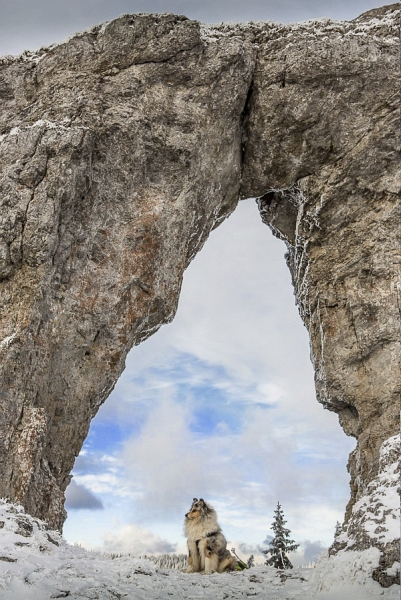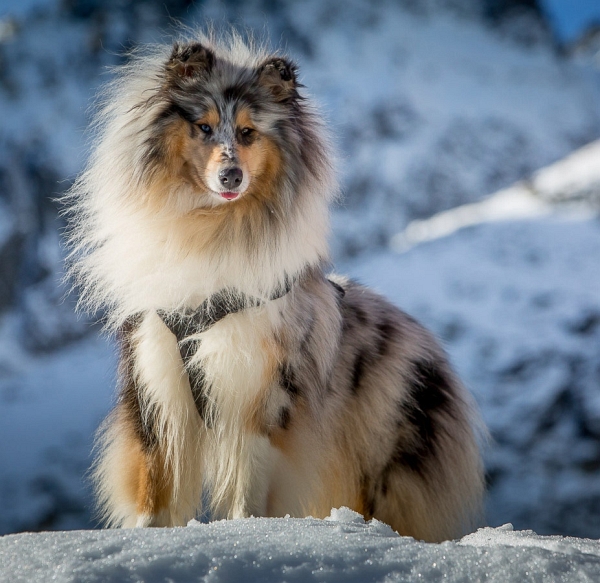 Is there a place you dream about for walking there?
My dream is to visit Northern Europe again – go across all of Scandinavia – Norway, Sweden and Finnland . I would like to spend my holiday there. I hope this dream will come true in the near future. However the priority for me is to discover the beauties of Slovakia. There are so many places here I just must see!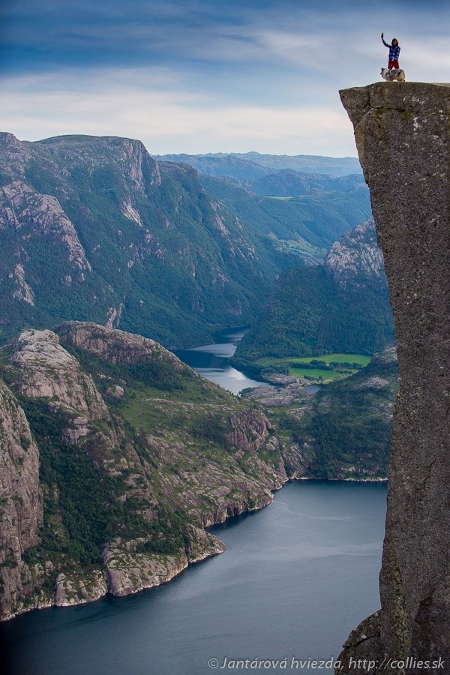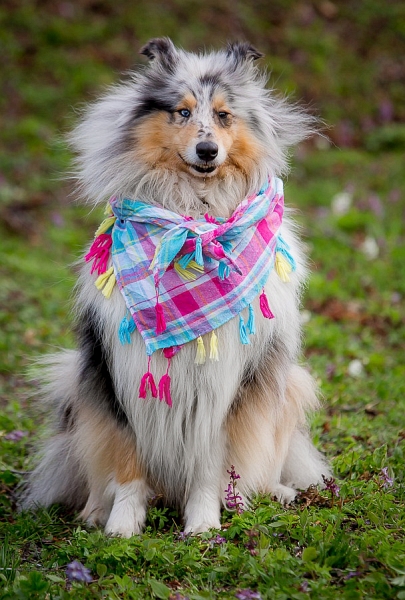 The Hairy Travels: Thank You for the conversation/ Anna Wyrzykowska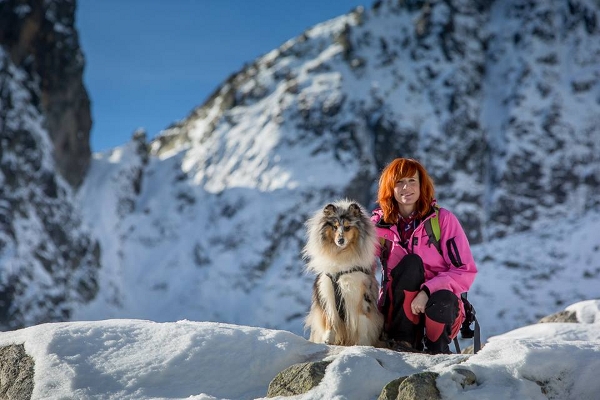 Jana Brossmannová and her collie rough Grace Kelly Blues du Clos de Seawind "GRACE"

Photo: Peter Suvák